This is a water care product that helps with cloudy water in your hot tub.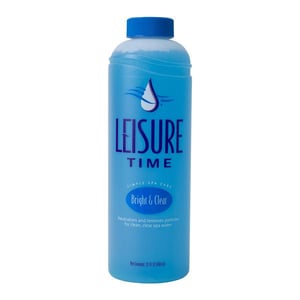 Bright & Clear by Leisure Time® is a water clarifier that helps clear up cloudy water. It utilizes a unique polymer to help neutralize and remove things like: dirt, soap, and oils. Essentially, it cases impurities to stick to the hot tub filter. This product should be only if all other water care elements are properly balanced and sanitized. If after checking, cloudy water still persists, Bright & Clear can be used to restore the water to a clean and fresh state.
Since this product causes impurities to stick to the hot tub filter, the filter will need to be thoroughly cleaned by spraying the filter off (or running it through the dishwasher!) then soaked in the proper solution after each use.
THIS PRODUCT IS NOT FOR USE IN SALT WATER SYSTEM-EQUIPPED HOT TUBS!
You can purchase this product at our e-store by clicking here!